Zach Bolton

Names::English name::Zach Bolton

Name

English

Zach Bolton

Aliases

Z. Charles Bolton

Professional Status

Born

August 9th, 1981
Cincinnati, Ohio

Age

36

Full Name

Zach Charles Bolton

Gender

Occupation

ADR director, line producer, actor

Employer

Personal Information
Zach Charles Bolton is a United States ADR director, line producer, and actor who works for Funimation. He has directed numerous English-language versions of Japanese anime films and television series, including both Soul Eater and Soul Eater NOT! He is also the English-language voice of Hero in Soul Eater.
Soul Eater VoicingEdit
Main article: Hero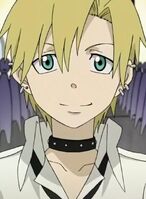 Bolton voices Hero, the put-upon student at the Death Weapon Meister Academy who becomes Excalibur's meister in Episode 32. Bolton is currently the only English voice actor for Hero.
References
Edit