Witch
Kanji

魔女

Rōmaji

Majo

Manga Debut
Anime Debut
A Witch (魔女, Majo) is a powerful, humanoid female being who can manipulate magic.[1]
Appearance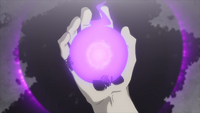 The appearance of a witch varies, though they generally look like human females.[2] However, some witches can have an appearance based on distinct, animal-like qualities of their animal theme.[3]
The soul of a witch is usually purple, and is shaped like a human soul.[4] However, witches like Shaula Gorgon may show that this isn't always the case.[5] The Soul Wavelength of a witch is also distinguishable, though this cannot be physically seen.[3]
Discrimination
The Witches' control spread further in the past. However, the DWMA's efforts have caused the Witches to later lose the upper-hand for a long time and as a result, have made them shunned and resorted to being trapped in an isolated space: the Witches' Realm.[6] It seems that the general population and even members of the DWMA hold a Witch to a low opinion, with young witches such as Kim Diehl fearing that their status as witches would cause them to be hunted by the DWMA.[7] In addition, even a DWMA security guard is uncomfortable with Kim, despite her status of a student of the academy.[7] Even Death Gods, like Death the Kid, recognize them as DWMA's eternal enemies[8] and Death is not completely trusting of them.[9]
However, higher-ups and high-ranking members in the DWMA are willing to look past the general discrimination and history between the Witches and DWMA.[7] In addition, even Death himself admitted that the creation of the Demon Weapons was inhumane for the Witches and actually didn't want to perform the experiment to create them, which required the sacrifice of Witches.[10] After the battle on the Moon, Death the Kid sought to improve relation between Witches and Humans alike.[11]
Witch Hunts
Occasionally, the souls of Witches are hunted. This is a requirement to create a Death Scythe due to the fact that Demon Weapons are in an "incomplete" form without the Witch souls and because of that, it is needed for them to become "true demon weapons".[12] Although Witches can be hunted for this reason, Witches can also be hunted for causing trouble.[13]
However, Witches who cause trouble to DWMA or are authorized by Death to receive an Execution Order are officially authorized to be hunted after,[13] such as the Gorgon Sisters, all three of whom had attracted the attention of the DWMA and for one member, even the DWMA CIA.
Types of Witches
Witches are classified by their type and capability:
Necromancer (死霊使い (ネクロマンサー), Nekuromansā): A Witch who specializes in reviving the dead as Mummies. Only Samantha is a known Necromancer.[14]
Tanuki Witch (タヌキの魔女, Tanuki no Majo): Tanuki Witches are Witches whose themes are tanukis, Japanese raccoon dogs. Tanuki are known to be "Masters of Regeneration" and as such, Tanuki Witches are users of Regeneration Magic. These Witches are looked down upon by the Witch Order due to lacking the Pull of Magic. Kimial Diehl is the only known Tanuki Witch.[15]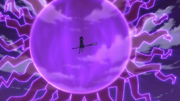 High Level Witch (上級魔女, Jōkyū Majo): A powerful Witch who is recognized as "advanced" and is capable of contending with other, high caliber opponents.[16]
Short-Range Witch (近距離型魔女, Kinkyori-Gata Majo): A short-range witch is the type of Witch whose spells and specialty revolves around the usage of close combat and is known to be formidable. Only Medusa Gorgon is a known, confirmed Short-Range Witch.[17]
Little Witch (チビ魔女, Chibi Majo): A type of Witch who is young and inexperienced, thus still developing their magical power.[18]
Abilities
Although many Witches possess various unique traits and abilities, the majority share common abilities.
Weaknesses
Techniques originating from the Great Traditional Techniques of the Scythe-Meister, such as the Witch-Hunt, are moves tailored to kill Witches, especially the evil ones.[26] When captured, Witches are also gagged to prevent the usage of spells, especially those who require chants or are already under Soul Protect.[27] When forcing Witches to cooperate, the DWMA also employs the usage of a special Collar which is set to explode and kill the wearer should they try anything against the DWMA's wishes.[28]
List of Witches
See also: Category:Witch and List of tertiary characters
Trivia
In the Yen Press English translation, Tezca Tlipoca refers to a "Fifth Power," later revealed to be the witches.[29] A fifth power, or "quintessence," may refer to the Fifth Element or the Aether, an element beyond the conventional four: air, fire, earth, and water. The quintessence also may refer to a hypothetical form of dark energy.[30] Based on witches' closeness to dark magic and their operation outside of a normal world, Tezca's potentially unintentional comparison of witches to the Aether and Dark Energy is apt.
References