---
Special Abilities
Edit
Full-Weapon Transformation (全身武器, Zenshin buki): Coming from a special weapons clan and therefore a Demon Weapon. Tsubaki is capable of transforming her body into a given weapon at will.[1]
Wavelength Control (波長コントロール, Hachō Kontorōru): As a Demon Weapon, Tsubaki has the natural ability to control her Meister's Wavelength. She can adjust the resonance level between her and Black☆Star, allowing her to even adjust the weight of her weapon forms by making it the normal weight of a selected weapon or making it lighter.[2]
Multi-Form (多変型, Ta Henkei): Multi-Form allows Tsubaki the ability to transform into more then one weapon form, unlike the usual one weapon transformation.[1] Although through an unknown cause and once speculated by Masamune to be a mutation, she inherited this ability over her brother due to being from the Nakatsukasa Clan.[3] This ability originates from the fact that Tsubaki is one of the direct descendants of the first Demon Weapons created by Arachne Gorgon herself.[4]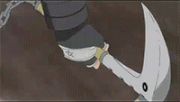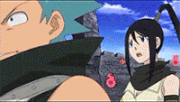 Enhanced Reflexes: Tsubaki's reflexes enables her to be able to dodge gunfire at near point-blank range even when closing her own eyes.[9]
Enhanced Speed: Tsubaki is quick enough to keep up with Black☆Star's own speed.[9]
Intellect: Tsubaki is noted to be rather intelligent and competent. She understands the Meister/Weapon combination and how to stop the Uncanny Sword's ability.[10] Her competence has been noted by Mifune to have saved Black☆Star[9]
Hand-to-Hand Combatant: Tsubaki possess some skill in hand-to-hand combat similar to her Meister, Black☆Star. Capable of mimicking his own style of fighting when using the Shadow☆Star: Fourth Form - Branched Darkness technique, she was capable of performing a successful sneak attack on Mifune. The former even praised her capability in her movements being graceful.[11]
Martial Arts: Much like her Meister, Tsubaki has skill in martial arts.[9]
Weaponry Combatant: Tsubaki is capable of using various weaponry such as a ninjato, shuriken, and a chain scythe in combat.[9][12][13]
Disguise: Combined with her Mode: Dummy☆Star, Tsubaki is capable of disguising herself as other individuals, namely Black☆Star. This includes mimicking their mannerism.[9]
Exceptional Soul: Death himself noted that Tsubaki's strongest quality is not within her multi-form ability, but the strength of her soul. This is seen when she resists the Soul Possession capability of the Uncanny Sword.[13]
Throwing: Tsubaki is skilled at throwing shurikens, having hit Black☆Star on the head with one multiple times.[9]
Equipment
Edit
Shinigami Smoke Bomb: Tsubaki carries a special smoke bomb capable of contacting Shinigami's Mirror in the Death Room with the smoke used as a refelcting surface.[9]
Shurikens: Tsubaki carries standard shurikens on her persons.[9]
Ninja Swords: Tsubaki carries two, dual ninja swords on her persons.[9]
Main article: Black☆Star#Equipment
References
Edit
↑ Soul Eater Manga: Chapter 58
↑ Cite error: Invalid <ref> tag; no text was provided for refs named Chapter_8
↑ Soul Eater Manga:Chapter 28
↑ Soul Eater Manga: Chapter 28
↑ Soul Eater Manga: Chapter 11
↑ Soul Eater Manga: Chapter 7
↑ Soul Eater Anime: Episode 28
↑

Soul Eater Manga: Chapter 7

↑ Soul Eater Manga: Chapter 50
↑ Soul Eater NOT! Anime: Episode 12