Travis Willingham

Names::English name::Travis Willingham Kanji name::ウィリンガム トラビス Romaji name::U~iringamu Torabisu

Name

Kanji

ウィリンガム トラビス

Romanization

U~iringamu Torabisu

English

Travis Willingham

Aliases

Johnny Hildo
Kent Hampton
Travis Willingrod

Professional Status

Born

August 3rd, 1981

Age

35

Full Name

Travis Hampton Willingham

Gender

Male

Nationality

American

Residence

Los Angeles, California

Ethnicity

White

Education
Occupation

Voice Actor, Actor

Years Active

2003-Present

Employer

Funimation
OkraTron 5000
Viz Media
Studiopolis
Disney
Warner Bros
Others

Notable Roles

Free (Soul Eater)
Roy Mustang (Fullmetal Alchemist, Fullmetal Alchemist: Brotherhood)
Knuckles the Echidna (Sonic the Hedgehog Series 2011-Present)
Thor (Avengers Assemble)
Guile (Street Fighter (Series)

Personal Information

Height

6' 3" (1.90 meters)

Hair Color

Brunette

Eye Color

Brown

Homeland

Dallas, Texas, U.S.

Spouse(s)

Laura Bailey (M. 2011-Present)
Travis Hampton Willingham (ウィリンガム トラビス, U~iringamu Torabisu; born August 3rd, 1981) is a United States voice and live-action actor, who provides voices in numerous animated series and video games, including English versions of Japanese anime series for Funimation, Christopher Sabat's OkraTron 5000, Viz Media, Studiopolis, and New Generation Pictures. He is the voice of Free in the English dub of Soul Eater.
Personal Life
Edit
Willingham married his long time friend and fellow actor Laura Bailey on September 25th, 2011.[1] They both currently reside in Los Angeles.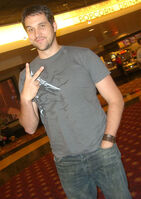 Willingham's earliest live-action work was as Dr. Hurtrider in the 2003 film
Prison-A-Go-Go!
, a low-budget, action-comedy B-movie, co-starring his future wife
Laura Bailey
. He has acted in numerous films, including
Secondhand Lions
, and numerous television series, including
Nip/Tuck
,
Prison Break
, and
The New Adventures of Old Christine
.
His first voiceover work was in the anime Detective Conan (dubbed in English under the title Case Closed) for Funimation, where he provided additional voices. He went on to voice various characters for Funimation, including Roy Mustang in Fullmetal Alchemist, Portgas D. Ace in One Piece, and Takashi Morinozuka in Ouran High School Host Club. After moving to Los Angeles, Willingham continued to voice characters in anime, such as Zetsu in Naruto Shippuden.
Since moving to Los Angeles, Willingham also has acted in United States animation, portraying the Hulk in Marvel Super Hero Squad, Thor in Avengers Assemble, and King Roland II in Sofia the First.
Willingham also has acted in more than one hundred video games. He has portrayed Knuckles the Echidna in Sonic the Hedgehog, as well as roles in Call of Duty, Final Fantasy, Halo, Lego, Skylanders, and World of Warcraft.
Soul Eater VoicingEdit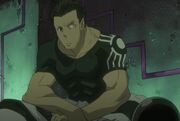 Main article: Free
Willingham voices the antagonist Free in the English dub of Soul Eater. An immortal werewolf, Free joins Medusa Gorgon's army after she and Eruka Frog freed him from the Grand Witch Maba's prison. Willingham is the voice of Free in all but one episode of Soul Eater, where Free, credited as "Arachnid," voiced by Chris Cason in Episode 37.
Willingham's wife, Laura Bailey, also acts in the Funimation English dub for Soul Eater as the protagonist Maka Albarn. Bailey and Willingham have acted together in numerous series, including Avengers Assemble as Black Widow and Thor along with fellow Soul Eater actor Troy Baker (Excalibur) as Hawkeye and Loki, and Critical Role along with fellow voice actors Matthew Mercer and Sam Riegel.
References
Edit
↑ "Travis and Laura Wedding Photobooth at mebophoto." 25 September 2011. Retrieved 3 October 2011.
Ad blocker interference detected!
Wikia is a free-to-use site that makes money from advertising. We have a modified experience for viewers using ad blockers

Wikia is not accessible if you've made further modifications. Remove the custom ad blocker rule(s) and the page will load as expected.