The Lines of Sanzu
Talk

0
522pages on
this wiki
Directory: Abilities → The Lines of SanzuDirectory: Characters → Death the Kid → The Lines of SanzuDirectory: Characters → Shinigami → The Lines of Sanzu
Not much is currently known about the Lines of Sanzu, other than they are represented by the white lines present within Kid's hair. So far, Kid hasn't been able to fully control any of the Lines of Sanzu, only activating two. One due to the soul wavelength increasing abilities of BREW in the battle with Mosquito and two during the final battle with Noah, but we do know that he unlocks great powers even when a single line is connected. He also showcased new abilities, like the upgrading of the caliber of Kid's shots from Patti and Liz from the usual .38 to .42, changing his guns to visually match the Israeli made Desert Eagle and greatly upgrade the power of his Death Cannon.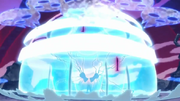 The Lines of Sanzu seem to be directly linked to the Shinigami's own natural special abilities, as he was able to access some of his father's abilities after connecting one line. There also appears to be some direct connection to Shinigami himself, as he displays visible signs of pain after the first connection occurred. Spirit's response at this point suggests that the connection of the lines - while technically beneficial to Kid - does not bode well for Shinigami. Shinigami however, sees the lines advancment as progress for his son. Kid immediately concludes that his father gave him Brew because of the power of the Lines of Sanzu, and resolves to meet (what he sees as) his father's expectations. Curiously, he shows no prior knowledge of the Lines' significance, while reacting very quickly to the changes they temporarily brought about.
It is worth noting that Mosquito describes them as physical characteristics of shinigami which, apparently are dependant on age. Though we have yet to see an adult shinigami (in human form, that is), we can conclude from the vampire's comments that they possess three complete lines as opposed to the half lines of the child shinigami Kid.
Spirit mentioned during the battle on the Moon that if Kid couldn't connect all three lines in the battle, he wouldn't be able to awaken as a true Shinigami in time and that as a result, they would lose the battle against the Kishin.
In chapter 108, Kid learned that he wasn't born a complete Shinigami (All three lines completed) because Shinigami feared he might turn out like his older brother, Asura.
In chapter 110, after Kid connects the third line Shinigami turns to dust. And Kid soul enlarges to a size comparable to the moon. He also learns the true power of a Shinigami is the "Madness of Order" , in which can turn anyone into a living puppet.
Trivia
The Sanzu River is known as the River of Three Crossings and is the way to the afterlife. It is the Japanese equivalent of the River Styx.
In the Anime, all three Lines of Sanzu are connected by Kid, which turn Liz and Patty's Death Cannon forms into enormous, golden cannons. The attack from a single shot from this cannon had the ability to destroy Asura's monstrous form.
It's possible that, since Kid was born from a fragment of Shinigami's soul, this means they both share one 'pool' of power.
When connected, his Lines of Sanzu bears the resemblace of a halo, emphasing an idea of an "Angel of Death".
In both endings of the anime and manga, when activates all three Lines of Sanzu, it leaves multiple cracks in Shinigami's mask when Kid battles Asura.