Sonny Strait

Names::English name::Sonny Strait

Name

English

Sonny Strait

Professional Status

Born

June 28th 1965

Age

52

Full Name

Don "Sonny" Strait

Gender

Male

Nationality

American

Occupation

Actor, ADR voice director, ADR scriptwriter illustrator, musician

Employer
Notable Roles

Ragnarok (Soul Eater)
Krillin (Dragon Ball)
Usopp (One Piece)
Maes Hughes (Fullmetal Alchemist)
Koro-sensei (Assassination Classroom)
TOM (Toonami)
'Splosion Man ('Splosion Man)

Personal Information

Spouse(s)

Gayla Strait

Family

Savannah (step-daughter)
James (step-son)
Don "Sonny" Strait is a United States actor, ADR director, and ADR scriptwriter at Funimation, as well as a comic book illustrator and musician. He provides voices for numerous video games and English versions of Japanese animated series. He is the English voice of Ragnarok in Soul Eater.
Strait has acted in numerous dubs of Japanese animated series for Funimation, portraying Krillin in Dragon Ball, Usopp in One Piece, Maes Hughes in Fullmetal Alchemist, and Koro-sensei in Assassination Classroom. He also was the original voice of TOM, the robot host of Cartoon Network and Adult Swim's action-adventure animation block Toonami, which aired Soul Eater in the United States. He also plays the title character in the video game 'Splosion Man and acts in additional video games, including Borderlands.
For Funimation, Strait has been a voice director for, among other series, Dragon Ball Z, Fullmetal Alchemist, and Ouran High School Host Club. As well, he has been the script adapter for Claymore, Ghost Hunt, Kiddy Grade, and Tenchi Muyo! Ryo-Ohki.
Strait is also an illustrator, with more than 20 years experience in the arts. Among his seventeen published works are his debut self-published series Mr. Average and the independently published comic book series Elfquest. In 2007, he wrote and illustrated We Shadows, a graphic novel about a reluctant punk rock, faerie princess named Goat. We Shadows was nominated by the American Library Association for Best Graphic Novel in 2008. He also has illustrated Marvel Comics's sketch cards for Rittenhouse and was contracted to write the biography Line of Beauty: The Art of Wendy Pini.
As well, Strait performs in the band White Girl.
Soul Eater VoicingEdit
Main Article: Ragnarok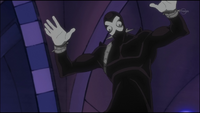 Strait voices Ragnarok, the demon weapon partner to Crona in the first Soul Eater anime. Strait is currently the only English voice actor for the character.
Strait was the initial voice of TOM, the announcer for Toonami, the Adult Swim programming block that aired Soul Eater on United States cable television. Strait would go on to portray the Intruder during Toonami's Intruder II total immersion event. Strait also voices numerous characters in shows on Toonami, including Ragnarok in Soul Eater, Krillin in the Dragon Ball series, Maes Hughes in Fullmetal Alchemist: Brotherhood, Usopp in One Piece, Amando in Michiko and Hatchin, Kyuzo in Samurai 7, Vestian in Space Dandy, Dorino Ohre Tadiski in Trigun: Badlands Rumble, Minoru Kamiya in Yu Yu Hakusho, and additional voices in Attack on Titan and the film Summer Wars. He also did ADR direction for the Toonami show Dragon Ball Z.
References
Edit