'

This section of the article is incomplete and requires more information before it can be considered complete.
---
Seated within the confines of a spacious office, Shaula awaits the arrival of one of her subordinates, after the Traitor's previous brief engagement with Anya Hepburn. Noting the desired individual's return, she asserts that the collected data from her various experiments is gradually reaching fruition, before dismissing those before her as mere prototypes. Upon word from another assistant that preparations have been completed, Shaula proudly declares that she will now prove her superiority to the other Gorgon Sisters.[1]
Sometime later, Shibusen suspects her and begins their search for her. She is later seen at a public market place with a disguise on with the notion of selling scorpoin-themed jewelry. She tricks Eternal Feather into wearing one of her cursed scorpion rings which gives Shaula mental control over her.[2][3] She  commanded Eternal Feather to attack the crowd. It was then Maka Albarn and Soul Eater of the EAT Class interevene and battled each other. Shaula watched from among the crowd, remarking on how her venom has given her the ability to compete with a EAT Students and hold her own. After Eternal Feather had caused enough commotion Shaula commands her to kill herself by slitting her neck and escapes from the scene.[4][5]
This section contains an instance from an anime not present in the manga and/or a deviation
One day, Shaula stood on the rooftops of Death City, viewing the academy and proclaim the time is almost here to enact her plan. She then smiles wickedly.
[sourcing needed]
On the approaching days of Halloween and the
Battle Festival
, she dressed as stereotypical witch and gave out gifts.
[sourcing needed]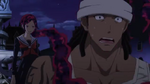 When Meme was discovered to be one of Shaula's victims in mind control and Shibusen took custody of her, Shaula used Anya and Tsugumi's care for Meme to her advantage. After being free from captivity, Meme under Shaula's control took down Anya and then used Tsugumi as leverage. Shaula, herself, then took care of Shibusen's agents, putting them under her mind control. She then engaged Sid herself while controlling Meme to go against Akane. However, as Sid was engaging her, Meme stabbed him in the back. When he turned around to see he had struck Meme, he dropped his guard. Shaula takes advantage and that and kills Sid as a result. She then escapes. It is revealed later that she has a sizable amount of people under her control.[6]
She was defeated by the combined power of Tsugumi, Anya and Meme. She was thus the first of the Gorgon sisters to perish.
References
Edit
Ad blocker interference detected!
Wikia is a free-to-use site that makes money from advertising. We have a modified experience for viewers using ad blockers

Wikia is not accessible if you've made further modifications. Remove the custom ad blocker rule(s) and the page will load as expected.