Directory: Characters → Razorhead
editRazorhead

English name::Razorhead
Kanji name::レイザーヘッド
Romaji name::Rezāheddo


Gender
Male

Classification
Human
Razorhead (レイザーヘッド, Rezāheddo) is a butcher in Death City. He's the rival of the Fish Dealer and is a fan of Blair.
Personality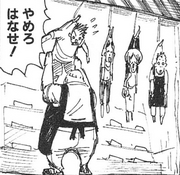 Razorhead is proud of his meat and he isn't afraid of insulting the Fish Dealer. He has the habit to hang people who insult his food or make him angry. He has the habit of misunderstanding people; for example, a woman who wanted to buy his food, but ended up being hanged by him.
Appearance
Razorhead is an overweight man with a round head and round eyes. He wears a black apron and a white shirt. His head seems to be stitched up.
Ad blocker interference detected!
Wikia is a free-to-use site that makes money from advertising. We have a modified experience for viewers using ad blockers

Wikia is not accessible if you've made further modifications. Remove the custom ad blocker rule(s) and the page will load as expected.