Monica Rial

Names::English name::Monica Rial

Name

English

Monica Rial

Professional Status

Born

October 5th, 1975[1]

Age

42

Full Name

Monica Jean Rial

Gender

Female

Nationality

American

Ethnicity

Spanish[2]

Education

University of Houston[3]

Occupation

Actor, ADR script writer, ADR director

Years Active

1999-present

Employer

Funimation, Seraphim Digital, Sentai Filmworks

Notable Roles

Tsubaki Nakatsukasa (Soul Eater)
Hello Kitty (Hello Kitty's Animation Theater)
Index (A Certain Magical Index)
Bulma (Dragon Ball Z Kai)
Shiro (Deadman Wonderland)
Stocking (Panty & Stocking with Garterbelt)
Michiko Malandro (Michiko & Hatchin)

Personal Information

Homeland

Houston, Texas
Monica Jean Rial is a United States actress, ADR script writer, and ADR director for Funimation, Seraphim Digital, and Sentai Filmworks. She has acted in numerous video games and in English versions of Japanese anime series. She is the English voice of Tsubaki Nakatsukasa of the anime Soul Eater.
Biography
Edit
Rial was born in Houston, Texas. Her father is from Pontevedra, Galicia, Spain. When she was young, her family would often visit Spain. She would translate for her younger brother some of the European Spanish-dubbed cartoons, including anime such as Doraemon and Dragon Ball Z, often imitating the various characters.[2] She studied ballet, tap, and jazz, then transitioned to musical theatre when she was 12.[4]
She studied acting through high school as well as college at the University of Houston.[3] In her on-stage work, she has performed in Cabaret, The Rocky Horror Show, Grease, and Sweet Charity. She was working on a theatre show with Jason Douglas, who suggested she audition for voice-over roles in anime for ADV Films.
At ADV, Rial's first voice-over role was walla in the 1999 dub of Martian Successor Nadesico; she would later portray Mikako and Miss Kobayahshi in the same series.[4] Also for ADV, she was cast in main character roles as Miharu in Gasaraki, Natsume in Generator Gawl, and the title character in Hello Kitty's Animation Theater.[5][6] Rial has also portrayed Izumi in Princess Nine, Hyatt in Excel Saga,[5] Kyoko Tokiwa in Full Metal Panic!, Kirika Yuumura in Noir, Lila in Najica Blitz Tactics, Haruka Shitou in RahXephon, Nyamo-sensei in Azumanga Daioh, Maya and Pen-Pen in Neon Genesis Evangelion, and Jo in Burst Angel.[6]
Rial also has performed voice-over work with the anime dubbing company Funimation. She has portrayed Amy in Detective Conan (dubbed under the title Case Closed), Lyra in Fullmetal Alchemist, May Chang in Fullmetal Alchemist: Brotherhood, Lumiere in Kiddy Grade, Index in A Certain Magical Index, Bulma in Dragon Ball Z Kai[5], Shiro in Deadman Wonderland, Stocking in Panty & Stocking with Garterbelt, Mei Misaki in Another and Michiko Malandro in Michiko & Hatchin.
She also has acted in numerous video games, including Borderlands 2.[7] She also acts for advertisements, including voiceover and on-screen acting for numerous businesses.[3]
In addition to voice acting, Rial is ADR script writing on numerous series, including D.N. Angel, Madlax, Gatchaman, Witchblade, Fairy Tail, Tokyo Ghoul, Yona of the Dawn, Birdy the Mighty: Decode, Seraph of the End, and Sky Wizards Academy.
Rial has also written columns for Newtype's USA edition.[8]
Soul Eater VoicingEdit
Main article: Tsubaki Nakatsukasa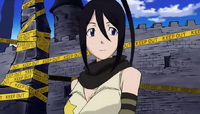 Rial voices Tsubaki Nakatsukasa, demon weapon partner to Black☆Star in the first Soul Eater anime series. Rial is currently the only English voice actor for Tsubaki; she reprises her role in Soul Eater NOT!
In her childhood, Rial would watch Spanish dubs of Dragon Ball Z. She would go on to voice numerous characters in the series, including Bulma and Seer.[5][9]
Jason Douglas, who recommended Rial audition for voice acting at ADV Films, is also the English voice of Joe Buttataki.
Rial and Jamie Marchi, the voice of Liz Thompson, are close friends.[sourcing needed] The two also have portrayed the titular sisters in Panty and Stocking.
While working for ADV and Funimation, Rial co-starred with Brittney Karbowski in a production of Rocky Horror Picture Show. A director recommended Karbowkshi audition for ADV.[3][10] Karbowski and Rial would later co-star as partners Black☆Star and Tsubaki in Soul Eater.
References
Edit
Ad blocker interference detected!
Wikia is a free-to-use site that makes money from advertising. We have a modified experience for viewers using ad blockers

Wikia is not accessible if you've made further modifications. Remove the custom ad blocker rule(s) and the page will load as expected.