Micah Solusod

Names::English name::Micah Solusod

Name

English

Micah Solusod

Professional Status

Born

August 21st, 1990

Age

27

Full Name

Micah Solusod

Gender

Male

Nationality

American

Residence

Texas

Occupation

Voice actor, illustrator

Years Active

2009-Present

Employer
Notable Roles

Soul Eater (Soul Eater)
Ao Fukai (Eureka Seven: AO)
Coby (One Piece)
Toma Kamijo (A Certain Magical Index, A Certain Scientific Railgun)

Personal Information

Homeland

Hawaii, United States
Micah Solusod is a United States voice actor at Funimation and freelance illustrator, who provides the voices for a number of English versions of Japanese anime series and video games. He is the English voice of Soul Eater in the anime Soul Eater.
Biography
Edit
Solusod was born and raised in Hawaii before moving to Texas to become a voice actor.
Solusod debuted as Malek Yildrim Werner in
Blassreiter
, and later went on to play Tsutomu in
Birdy the Mighty: Decode
, Haruki Hishida in
Rideback
, Ao Fukai in
Eureka Seven: AO
, Coby in
One Piece
, and Toma Kamijo in both
A Certain Magical Index
and
A Certain Scientific Railgun
. He also has acted in numerous video games, including the
Borderlands
series.
[1]
Solusod is also a freelance artist,[2][3] sharing his artwork on DeviantArt and Tumblr. He also works on the original webcomic Ties that Bind.
As well, Solusod has acted in two animated works by fellow illustrator Chris Niosi, portraying Mike Ilaqua in the 2011 short film Balancing Act, and Archy in TOME: Terrain of Magical Expertise. He also has provided voices in videos by Martin Bellamy, alias Little Kuriboh, including for Yu-Gi-Oh: The Abridged Series, with animation by Niosi.[4]
Soul Eater VoicingEdit
Main Article: Soul Evans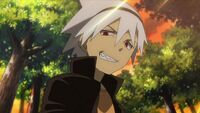 Solusod voices the scythe Soul Eater, a protagonist in the first Soul Eater anime series. Soul is the weapon partner to the meister Maka Albarn. Solusod is currently the only English voice actor for Soul; he reprised this role in Soul Eater NOT!
The first time Solusod met his co-star Laura Bailey, the voice of Maka Albarn, was when recording the Funimation Blu-Ray and DVD commentary for Episode 7; the two had not met each other during the actual dubbing of all 51 episodes.[5]
Solusod's voice has similarities to that of Johnny Yong Bosch, to the point that initial credits for Solusod were mistakenly given to Bosch. Solusod has voiced Claus Valca in Last Exile: Fam, the Silver Wing, replacing Bosch who originated the English voice of Claus in the first Last Exile series. Solusod also plays Ao Fukai in Eureka Seven: AO, with Bosch playing Ao's father, Renton Thurston.
Solusod's character, Soul Evans, and Maka Albarn would be drawn by Atsushi Ōkubo as the characters Renton Thurston and Eureka from Eureka Seven, animated by Soul Eater's production company Studio BONES and used as artwork in the Soul Eater Late Show. Solusod would later play Renton and Eureka's child, Ao Fukai, in the English dub of Eureka Seven: AO.
Solusod would act alongside Kyle Hebert (the English voice of Masamune Nakatsukasa) in both Yu-Gi-Oh: The Abridged Series and TOME: Terrain of Magical Expertise.
Solusod was commissioned by Colleen Clinkenbeard (the English voice of Marie Mjolnir) in 2013 to illustrate autograph cards for her convention appearances. These autograph cards feature her characters, such as Monkey D. Luffy from One Piece,[6] Erza Scarlet from Fairy Tail,[7] and Yuko Ichihara from xxxHolic.[8]
References
Edit