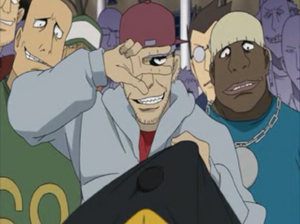 Materazzi
The Materazzi is a human criminal organization in Italy. The gang would often meet up in the Santa Maria Novella Basilica at night time. Despite their offenses, the members were not considered evil enough to be on Shinigami's list. In the anime, the Materazzi tried to pick a fight with Soul after he bumped into one of them. Soul was unperturbed by their presence and easily beat up the gang.
A group of about fifty or sixty members were wiped out by Crona, who was influenced by Medusa to take their souls, in order to become a Kishin.
They only appear in Chapter Four for a brief time in the manga and in Episode Seven in the anime.
Ad blocker interference detected!
Wikia is a free-to-use site that makes money from advertising. We have a modified experience for viewers using ad blockers

Wikia is not accessible if you've made further modifications. Remove the custom ad blocker rule(s) and the page will load as expected.