Luci Christian

Names::English name::Luci Christian

Name

English

Luci Christian

Professional Status

Born

March 18th, 1973

Age

44

Full Name

Louisa Michelle Christian

Gender

Female

Nationality

American

Education

Louisiana State University (M.F.A.)
Angelo State University (B.A.)

Occupation

Actor, ADR script writer

Years Active

1999-Present[1]

Employer

Funimation, Seraphim Digital, Sentai Filmworks

Notable Roles

Medusa Gorgon (Soul Eater)
Kaname Chidori (Full Metal Panic)
Wrath (Fullmetal Alchemist)
Truth (Fullmetal Alchemist: Brotherhood)
Mitsukuni "Honey" Haninozuka (Ouran High School Host Club)
Nami (One Piece)

Personal Information

Homeland
Spouse(s)

Michael Bell (m. 2008)

Family
Louisa Michelle "Luci" Christian is a United States voice actress and ADR script writer at Funimation and Seraphim Digital/Sentai Filmworks. She has acted in numerous video games and in English versions of Japanese anime series. She is the English voice of Medusa Gorgon of the anime Soul Eater.
Biography
Edit
Christian grew up in Texas where her parents were high school teachers.[2] From age 3 to 9, she participated in local beauty pageants, and in high school she participated in theater programs.[4] In college, she originally pursued journalism but changed to theatre when she was offered a scholarship.[4] She received her Bachelor's degree in Theatre from Angelo State University and her Master of Fine Arts in Theatre at Louisiana State University.[4]
Christian's acting in anime began with ADV Films in Houston, Texas, where she recorded for three hours of studio time for minor roles in Those Who Hunt Elves . She did not hear back for some time until she was cast in Neo Ranga.[1] A few weeks later, she auditioned and received her first starring role as Kaname Chidori in Full Metal Panic![1][4] Her other roles for ADV include the title character of Super Gals! Ran Kotobuki,[5] Himeno Awayuki in Prétear,[6] and Yukari Tanizaki in Azumanga Daioh.[7]
Christian joined the voice actors who would regularly travel from Houston to record with Funimation in Dallas. She had supporting roles in Fullmetal Alchemist as guest character Psiren and recurring character Wrath.[8] She would then play Truth in Fullmetal Alchemist: Brotherhood.
Among her many roles at Funimation, she has portrayed Asako Kurumi in Kodocha,[9] Rico in Gunslinger Girl, Asuna Kagurazaka in Negima, Tenma Tsukamoto in School Rumble,[10] and Mitsukuni "Honey" Haninozuka in Ouran High School Host Club.[11] After Funimation acquired the dubbing rights for the long-running One Piece anime series, Christian was cast as Nami.[12] She also portrays young Kyuta in The Boy and the Beast[13] and Satomi Murano in Parasyte.[14]
In 2007, the American Anime Awards nominated Christian for Best Actress for her work in Princess Tutu, and Best Actress in a Comedy for her work in Desert Punk, Negima, and Nerima Daikon Brothers.[15]
Christian has also acted in numerous live-action works and video games.
She has been the ADR script writer for Bamboo Blade (in which she also portrayed Kirino Chiba), Big Windup!, D.Gray-man (in which she portrayed Lenalee Lee, young Allen Walker), Ghost Hunt (in which she portrayed Katsuki Yoshimi), Madlax (in which she portrayed Margaret Burton[1]), and Strain: Strategic Armored Infantry.
Soul Eater VoicingEdit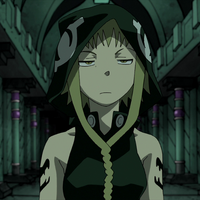 Christian voices the witch Medusa Gorgon, one of the antagonists in the first Soul Eater anime series. Disguised initially as a physician at the Death Weapon Meister Academy, Medusa is a scientist who uses her research on the Black Blood in an attempt to turn her child, Crona, into a new Kishin. Christian is currently the only English voice actor for Medusa.
References
Edit
↑ 1.0 1.1 1.2 1.3 "Voice Actor Luci Christian (interview)." OtakuReview. 27 March 2006.
↑ 2.0 2.1 Kleiner, Sarah (2006-04-02). "District 71 Runoff: Getting to know Kevin Christian." Abilene Reporter-News. Archived from the original on 13 January 2007. " 'It's hard to move around when you're in your formative years,' said 33-year-old Luci Christian, a Houston actress and Kevin's only sibling. 'On the plus side, we both have learned to be at home in almost every situation and we are unafraid to go into places where we don't know anyone.' Both of Christian's parents are educators. While Christian finished 11th and 12th grades at Roby High School, Mike Christian was his football coach, and Barbara Christian was his band director and drama instructor.
↑ "Luci Christian Bell." BeeAudio. Archived from the original on 27 May 2013. Retrieved 22 February 2012. Narrator's profile at BeeAudio
↑ 4.0 4.1 4.2 4.3

Levy, Jay (2003-07-21). "An Interview with Voice Actress Luci Christian". Anime News Service. Retrieved 2012-02-06.

↑ Sternenberg, Melissa. "THEM Anime Reviews 4.0 – Super GALS!" THEM Anime Reviews. Retrieved 18 July 2014.
↑ Dungan, Mike (February 23, 2005). "Pretear Vol. #1 (also w/box)." Mania.com.
↑ Pezzano, Kevin (2004). "Azumanga Daioh Volumes 4, 5, & 6." Revolution SF.
↑ "Guests – 2007 Guest Listing – Guest info – Luci Christian – Voice Actor." Anime Boston. Retrieved 2014-07-18.
↑ "Kodocha. / 2, Hayama hijinks." Funimation. 2005.
↑ Carroll, Luke (January 10, 2008). "School Rumble – DVD 1 – Review". Anime News Network.
↑ Martin, Theron (May 30, 2009). "Ouran High School Host Club – DVD – Season 1 Part 2". Anime News Network.
↑ Martone, John (July 3, 2007). "The new One Piece dub cast announced." Japanator.
↑ "The Boy and the Beast's English Dub Cast, March Opening Announced." Anime News Network. Retrieved January 19, 2016.
↑ "Brittney Karbowski, Adam Gibbs Star in Parasyte English Dub Cast." Anime News Network. October 2, 2015.
↑ "American Anime Awards Finalists Announced." Anime News Network. 7 February 2007.