Kyle Hebert

Names::English name::Kyle Hebert Kanji name::エベールカイル Romaji name::Ebēru Kairu

Name

Kanji

エベールカイル

Romanization

Ebēru Kairu

English

Kyle Hebert

Aliases

Squeege

Professional Status

Born

June 14th, 1969 (♊)

Age

48

Full Name

Kyle Henry Hebert

Gender

Nationality

American

Residence

Lake Charles, Louisiana, U.S.

Ethnicity

Caucasian

Occupation

English Voice Actor
Podcaster
DJ (formerly)

Years Active

1996-present

Employer

Personal Information

Hair Color

Gray

Eye Color

Brown
Kyle Henry Hebert (/ˈeɪbɛər/ ay-bair; born June 14th, 1969 - ) is a United States actor and podcaster. He has been an English-language voice actor in numerous anime and video game series, frequently acting in works dubbed by Funimation. He is the English-language voice of Masamune Nakatsukasa in Soul Eater.
Hebert began his work in voice-over in Dallas, Texas, in the mid-1990s as a disc jockey for Radio Disney, under the pseudonym Squeege, where he and Kara Edwards (the English voice of the Fairy and Eternal Feather) co-hosted "The Squeege and Kara Show".[1] He continued as a DJ until September 2005, when he moved from Dallas to Los Angeles, California, to increase his voice acting.
For Funimation, Hebert had minor roles in numerous anime dubs such as Detective Conan (dubbed under the title Case Closed), Fruits Basket, Fullmetal Alchemist, and One Piece.
He is also well-known for his acting in Funimation's Dragon Ball series, in which he portrayed teenage and adult Gohan. the Narrator, and numerous other characters.[2] Hebert also guest starred on TeamFourStar's fan-made Dragon Ball Z Abridged 2011 Christmas special as Santa Claus and on The World's Strongest Abridged as the Narrator.
Since moving to Los Angeles, he has continued to act in anime, portraying Kiba Inuzuka in Naruto, Sōsuke Aizen and Ganju Shiba in Bleach, and Ryuji Suguro in Blue Exorcist. At Anime Expo 2009, Hebert won Best English Voice Actor in the SPJA Awards for his role as Kamina in Gurren Lagann. Hebert also acts in numerous video games. He portrays Ryu in Street Fighter and Big the Cat in Sonic the Hedgehog.
In 2009 and 2011, he voiced "The Sniper" in Magnum Farce, the animated spoof of the Dirty Harry films; he is set to reprise the expanded roles of Blivit, The Sniper, and Governor Arnold Schwartzenherzen-Geldengrubber in the feature film, currently in production.
Hebert also has performed in web series and films, including the Super Smash Bros homage There Will Be Brawl.[3] He has appeared in live-action videos for Doug Walker (the Nostalgia Critic)[4] and animated videos for Martin Bellamy (Little Kuriboh, Yu-Gi-Oh Abridged)[5] and Chris Niosi (TOME: Terrain of Magical Expertise).[6]
Hebert is also a podcaster, co-founding and hosting the weekly BigBaldBroadcast with his long-time friend, musician and amateur historian "Otherworld" Steve. The podcast ran from 2005 to 2010 with 150 episodes, with additional episodes beginning in 2014 as part of Kevin Smith's Smodcast Network. Hebert also provides the introductory voice-over and advertisement voice-over for Smith and Ralph Garman's podcast Hollywood Babble-On and on Chris Harrison's gaming podcast "Tea-Baggers Pwndcast."
Personal Life
Edit
Hebert proposed to his girlfriend on July 10, 2015, and they are currently engaged.[7]
Soul Eater VoicingEdit
Main article: Masamune Nakatsukasa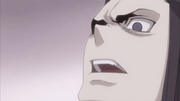 Hebert voices Masamune Nakatsukasa, the jaded older brother of Tsubaki Nakatsukasa. Hebert plays the character in his young adulthood as cold and brooding, while also raising his voice to demonstrate the character's anger, and also portrays Masamune as a child. Hebert is currently the only English voice actor for Masamune.
Hebert and Kara Edwards (the English voice of the Fairy and Eternal Feather) co-hosted a show for Radio Disney. Fellow Soul Eater actor, Cherami Leigh (the English voice of Patty Thompson), was also an on-air personality for Radio Disney.
Hebert has acted alongside Micah Solusod (the English voice of Soul Evans) in both Yu-Gi-Oh: The Abridged Series and TOME: Terrain of Magical Expertise.
Hebert has acted as both Ryu in Super Smash Bros. for Wii U and 3DS and as Wario in the Smash Bros online homage, There Will Be Brawl.
References
Edit