Kaori Nazuka

Names::English name::Kaori Nazuka Kanji name::名塚 佳織

Name

Kanji

名塚 佳織

English

Kaori Nazuka

Professional Status

Born

April 24th, 1985
Tokyo, Japan

Age

32

Gender

Female

Nationality

Japanese

Education

Toho Gakuen College of Drama and Music

Occupation

Actor, singer

Years Active

1993 – present

Notable Roles

Tsubaki Nakatsukasa (Soul Eater)
Miyu Kozuki (UFO Baby)
Eureka (Eureka Seven)
Nunnally Lamperouge (Code Geass)
Cosette (Les Misérables: Shōjo Cosette)

Personal Information
Kaori Nazuka is a Japanese actress and singer. She is the Japanese voice of Tsubaki Nakatsukasa of the anime Soul Eater.
Biography
She is a graduate of the Toho Gakuen College of Drama and Music.
Career
Nazuka has acted in more than one hundred anime series. Some of her most prominent roles are as Nunnally Lamperouge in Code Geass: Lelouch of the Rebellion and Eureka in Eureka Seven. She has acted in numerous web series, films, TV dramas, theatrical productions, and video games. She also dubs English live-action films and animation.
Personal Life
She also announced that she got married in February 2011,[1] and later that year, gave birth to a daughter.
Soul Eater Voicing
Main article: Tsubaki Nakatsukasa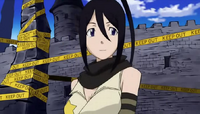 Nazuka voices Tsubaki Nakatsukasa, demon weapon partner to Black☆Star in the first Soul Eater anime series. Nazuka is currently the only English voice actor for Tsubaki; she reprises her role in Soul Eater NOT!
Trivia
References
Ad blocker interference detected!
Wikia is a free-to-use site that makes money from advertising. We have a modified experience for viewers using ad blockers

Wikia is not accessible if you've made further modifications. Remove the custom ad blocker rule(s) and the page will load as expected.