Jamie Marchi

Names::English name::Jamie Marchi

Name

English

Jamie Marchi

Professional Status

Born

October 8th, 1977
Knoxville, Tennessee[1]

Age

39

Full Name

Jamie Lynn Marchi

Gender

Female

Nationality

American

Residence

Dallas, Texas[2]

Education

University of Oklahoma[2]

Occupation

Actor, ADR script writer, ADR director

Years Active

2003-present

Employer

Funimation, Sentai Filmworks

Notable Roles

Liz Thompson (Soul Eater)
Meg (Burst Angel)
Panty (Panty and Stocking with Garterbelt)
Rias Gremory (High School DxD)
Cana Alberona (Fairy Tail)
Neko Kuroha (Brynhildr in the Darkness)
Mari Ohara ("Love Live! Sunshine!!")

Personal Information

Homeland

Oklahoma
Jamie Lynn Marchi is a United States actress, ADR script writer, and ADR director for Funimation and Sentai Filmworks. She has acted in numerous video games and in English versions of Japanese anime series. She is the English voice of Liz Thompson in the anime Soul Eater.
Career
Marchi graduated from the University of Oklahoma[2] with a degree in theater, and has been acting professionally since 2000. Her first role in voice acting was for Funimation in 2003 as Motoko Minagawa in Fruits Basket. Her first lead role was as Meg in Burst Angel, with additional roles in Black Cat, Sekirei, Heaven's Lost Property, Freezing, Witchblade, Death Parade, and Fairy Tail.
As well, she has both starred and written ADR scripts for Panty & Stocking with Garterbelt and High School DxD, portraying Panty and Rias Gremory. In addition, Marchi has been the ADR director[2] for Negima!, Jyu Oh Sei, Sgt. Frog, Spice and Wolf, Hetalia: Axis Powers, and Heroic Age. She has been the ADR scriptwriter for many of those series,[2] as well as for Baka and Test, Phantom ~Requiem for the Phantom, B Gata H Kei, Ōkami-san and Her Seven Companions, Kamisama Kiss, Yurikuma Arashi, Mikagura School Suite, and Oh! Edo Rocket.
In April 2013, Marchi joined The Funimation Show web series as a co-host.[3]
On September 3rd, 2015, Marchi made her debut for Sentai Filmworks as Neko Kuroha in Brynhildr in the Darkness.[4]
She has acted in numerous video games, including Borderlands,[5][6][7] Orcs Must Die, and The Gunstringer.
Marchi has won the Behind the Voice Actors Award five times, including as Voice Actress of the Year[8] and for her roles as Mikako Satsukitane in Heaven's Lost Property,[9] Uzume in Sekirei: Pure Engagement,[10][11] Rias Gremory in High School DxD,[12] and Cana Alberona in Fairy Tail.[13]
Soul Eater Voicing
Main article: Elizabeth Thompson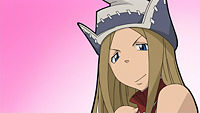 Marchi voices Liz Thompson, demon weapon partner along with her sister Patty Thompson to Death God Death the Kid in the first Soul Eater anime series. Marchi is currently the only English voice actor for Liz; she reprises her role in Soul Eater NOT!.
Trivia
References
Ad blocker interference detected!
Wikia is a free-to-use site that makes money from advertising. We have a modified experience for viewers using ad blockers

Wikia is not accessible if you've made further modifications. Remove the custom ad blocker rule(s) and the page will load as expected.