Jād Saxton

Names::English name::Jād Saxton

Name

English

Jād Saxton

Professional Status

Born

1979

Age

37 - 38

Full Name

Jād Brennon Saxton

Gender

Female

Nationality

American

Education

Texas Wesleyan University

Occupation

Actress, ADR Director

Years Active

2007-Present

Employer

Funimation, Sentai Filmworks

Notable Roles

Eimi Mori (Sasami: Magical Girls Club)
Akatsuki (Log Horizon)
Carla (Fairy Tail)
Hana "Hatchin" Morenos (Michiko & Hatchin)
Yuki (Wolf Children)

Personal Information
Jād Brennon Saxton[1] is a United States actress who has provided voices for many anime series licensed by Funimation and Sentai Filmworks. She is the English voice of Jacqueline O'Lantern Dupre in the anime Soul Eater.
Biography
Saxton graduated summa cum laude from Texas Wesleyan University with a Bachelor of Arts in Music in 2005.[2]
Career
Saxton earned her first work in voice acting because of her experience in singing, with a role in Sasami: Magical Girls Club. Her first major voice role was Masako Hara in Ghost Hunt.[3] Her other roles include Akatsuki in Log Horizon, Carla in Fairy Tail, and Hatchin in Michiko & Hatchin. She also has acted in video games such as Smite and Paladins.
Saxton is also an ADR director for Interviews with Monster Girls.
Soul Eater Voicing
Main article: Jacqueline O'Lantern Dupre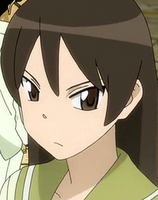 Saxton voices Jacqueline O'Lantern Dupre, lantern Demon Weapon and weapon partner to Kim Diehl. She is also a major supporting character in the prequel Soul Eater NOT!
Trivia
Saxton's first name is an acronym of her parents' names: Jimmy and David. It is pronounced "Jade."[4]
References
Ad blocker interference detected!
Wikia is a free-to-use site that makes money from advertising. We have a modified experience for viewers using ad blockers

Wikia is not accessible if you've made further modifications. Remove the custom ad blocker rule(s) and the page will load as expected.