Infection
Technique Data
English Title
Romaji
Katakana
Alternate Title(s)
Type
Derived Magic
Element
Madness
User(s)
The Clown
Class
Attack
Real World Data
Manga Debut
43
Anime Debut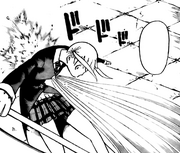 Due to the unique "attractive" qualities of the Clown's soul, it can produce multiple "arms" upon seemingly any part of it's body, that are capable of drawing a person deeper into madness. In this instance, the Clown forcibly ejects numerous examples of these "arms" from it's own previously damaged right forearm. These "arms" aim only to pierce the heart of the intended target, playing upon the pre-exsisting fears of the vitcim, in order to plunge them further into madness' grasp.
Only a heart strong in courage, and seemingly an anti-demon wavelength, can resist this phase of infection, while others found lacking easily succumb to madness' probing influence.
Trivia
The design of the "arms" is similar to the bandages covering Asura's face.