I Wanna Be

Song Info

Artist
Release Date
Opening Number

01

Starting Episode
Ending Episode

Opening Guide

Previous
← N/A
Next
Style →
List of Music | Image Gallery

I Wanna Be is the first ending to the Soul Eater anime. It is performed by the band Stance Punks, running from Episode 1 to Episode 13, and the last episode. It is replaced by "Style" in Episode 14.
Featured Appearances
Characters
Lyrics
Full Version
Kuzuboshi kirameku yume no hoshi sa
I WANNA BE ikou ze ikou ze ikou ze

I WANNA I WANNA BE

Sekai ha kuroku somatteru haku
Iki ha shiroi mama nano ni
Ima wo bukkowashi ni ikoutte
Yakusoku shita ano hi kara
Oretachi ha nanika kawattandarou ka

Yoru no hassha okiba no katasumide
Ikareru kurai ni sakenda koe ha
Oto mo naku fukinuketeitta ne
Soredemo hanashi wo kiite kure
Kitto mada maniau hazu dakara

I WANNA BE massaona
Zetsubou to issho ni
Himei wo agetsukisasare
Subete ga kawaru mae ni
Ikou ze ikou ze ikou ze ikou ze

I WANNA I WANNA BE

Fuyu no yoru ano musume ha tobiorita
Machigatta jiyuu ni tobiorita
Ittai nani ga aku nano ka sae
Bakana boku ha wakarazu ni
Nantonaku ano musume ni akogareta

Are kara mou zuibun tatte
Kitto sore nari ni ikitehakita keredo
Nannimo wakaranai mama yo
Kimi ga sotto oshiete kureta
Hontou no eien no imi sae mo

I WANNA BE koko ni iru yo
Kizuite kure koko ni iru kara
Nanno tameni nanimono nano ka
Oshiete kure koko ni iru kara

I WANNA BE utaou ze
Ganarou ze jounetsu no uta wo
Genjitsu ni zetsubou shinai
Oretachi no kibou no uta wo

I WANNA BE yume no hoshi ni
Umareta nara maniau hazusa
Kon'ya fuku kaze ni notte
[Sono] tsuzuki wo sagashi ni

Ikou ze ikou ze ikou ze ikou ze

I WANNA BE kikoeteru ka
Zutto koko ni iru yo


Junk stars are the stars of glittering dreams
I WANNA BE, cool, cool, cool!!

I! WANNA! I WANNA BE! (1, 2 ,3 ,4)

The world is stained black
Even though our breath remains white
I wonder what has changed for us,
Since the day I promised I'd go crush the here and now

In the corner of the night's car junkyard
A voice, screamed to the extent of insanity,
Blew through without a sound
Even so, listen to my story
Surely you still ought to make it in time

I WANNA BE! together with
Ghastly pale despair
Pierce through it by letting out a scream
Before everything changes

cool, cool, cool, cool

I! WANNA! I WANNA BE!

On a winter's night that one kid jumped down
It was the wrong freedom it jumped down
Without even understanding
What the heck evil really is,
That foolish me somehow admired that child

Since then a lot of time has already passed
And even though I've certainly lived by myself up till now,
I still don't understand anything!
You have taught me softly
Even the true meaning of eternity

I WANNA BE here!
Notice it, because I'm here
For what purpose am I what kind of person?
Teach me, because I'm here

I WANNA BE singing and yelling
A song of burning passion,
Our song of hope,
Which won't despair of reality

I WANNA BE born on the star of dreams,
Then I ought to make it in time
By riding on tonight's blowing wind,
Let's go find the succession of this!

Cool, Cool, Cool, Cool

I WANNA BE, is it audible?
Staying here!
Watch Now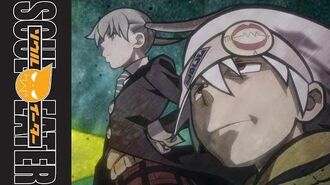 Trivia
In their battles, Maka, Black☆Star, and Kid are fighting creatures in long studded coats, with heads that look like pigs wearing human skulls over their heads. These creatures and the backdrops in this ending title sequence are re-used in Episode 32, where Hero and bystanders are in the same location and surrounded by the same pig creatures.
References