Hiro Shimono

Names::English name::Hiro Shimono Kanji name::下野紘 Romaji name::Shimono Hiro

Name

Kanji

下野紘

Romanization

Shimono Hiro

English

Hiro Shimono

Aliases

Shimocchi (しもKawagushi Sakura
Kawatana Sakura
Komitsu Satsuki
Shikae Yuu
TOMA

Professional Status

Born

April 21st, 1980 (♉)

Age

37

Gender

Nationality

Japanese

Residence

Lake Charles, Louisiana, U.S.

Ethnicity

Caucasian

Occupation

Japanese Voice Actor

Years Active

1996-present

Notable Roles

Masamune Nakatsukasa (Soul Eater)
Hiro (Soul Eater)
Connie Springer (Shingeki no Kyojin)
Tomoaki Sakauchi (Ghost Hunt)
Sho (Fairy Tail)

Personal Information

Hair Color

Gray

Eye Color

Brown
Hiro Shimono (Shimono Hiro) is a renowed voice actor who portrayed Masamune Nakatsukasa and Hiro in Soul Eater during the Japanese dub.
Soul Eater Voicing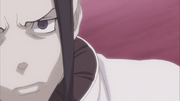 Shimono voices Masamune, the jaded older brother of 
Tsubaki Nakatsukasa
, Shimono plays the role as a cold, factual villian. To demostrate the anger in Masamune's heart, Shimono brings his voice up a noch or two.
References
Ad blocker interference detected!
Wikia is a free-to-use site that makes money from advertising. We have a modified experience for viewers using ad blockers

Wikia is not accessible if you've made further modifications. Remove the custom ad blocker rule(s) and the page will load as expected.