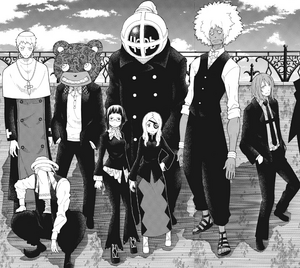 Eight Mysteries of DWMA
The Eight Mysteries of DWMA, also called the Eight Mysteries of the School by its students, are eight notable individuals with various "mysteries" surrounding them. In actuality, they refer to the some of the original eight Death Weapons seen within the series as well as refer to some of their special abilities and personality.[1] This name comes from those within the N.O.T class.
Overview
Each of the Death Weapons, known as a mystery, have a "mystery" to them which describes some of their abilities as well as exaggerates their actual personalities:
Mysteries in Soul Eater
References
↑ (Yen Press) Soul Eater NOT!: Chapter 12 — Anya:That expelled DWMA students are tortured and killed by The Executioner, who appears in an explosion of sound?
↑ (Yen Press) Soul Eater NOT! Chapter 12 — Tsugumi:Like the Woman with the All Seeing Eye who watches you not matter where you run and hide.
↑ (Yen Press) Soul Eater NOT! Chapter 12 — Tsugumi:Or the woman with the eye patch who destroys toilets in the dead of night.
Ad blocker interference detected!
Wikia is a free-to-use site that makes money from advertising. We have a modified experience for viewers using ad blockers

Wikia is not accessible if you've made further modifications. Remove the custom ad blocker rule(s) and the page will load as expected.