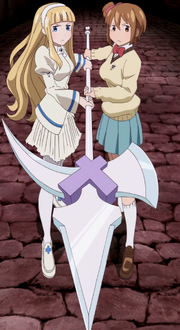 This page is for the collection of the various appearances of
Tsugumi Harudori
's weapon transformation form, the Demon Halberd and all images of it's techniques. Starting out as an incomplete weapon, Demon Halberd had no blade  until Tsugumi sharped her skills and listening to her inner self, that is when a blade finally appeared only solidfying her drive to never give up.
Manga
Anime
Other
Ad blocker interference detected!
Wikia is a free-to-use site that makes money from advertising. We have a modified experience for viewers using ad blockers

Wikia is not accessible if you've made further modifications. Remove the custom ad blocker rule(s) and the page will load as expected.