Dancing Dolls

Names::English name::Dancing Dolls Kanji name::ダンシング人形 Romaji name::Danshingu Ningyō

Name

Kanji

ダンシング人形

Romanization

Danshingu Ningyō

English

Dancing Dolls

Aliases

Dandol

Group Information

Origin

Osaka, Japan

Members

"Hono"/Honoka Kadomoto (門元穂果)
"Mii"/Misaki Nakajima (中島弥咲)
"Misaki"/Misaki Sakurada (桜田美咲)
Asuka Nagayama (永山飛鳥)
"Kyoka"/Kyouka Nagayama (永山杏佳)

Years active

2012-Present

Notable Works
Website
Dancing Dolls
is a group of Japanese pop singing women with ages varying in the late teens and they performed the song, monochrome for the opening of the Soul Eater Not! anime and later released in three versions through the various releases of their 5th single, "monochrome".
Short Biography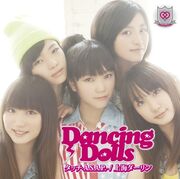 Dancing Dolls was formed by a group of childhood friends in Osaka, Japan when they first started performing in the streets in Osaka Castle Park, which apparently, is social gathering for street performances. The girls wrote/composed their own songs as group memeber, Misaki choreographed the dances. the group eventually began uploading dance covers to internet video media sites and achieved some what success. as their videos became popular, totaling over 10 million views by the time of their professional debut in 2012, Dancing Dolls were signed by Sony Music Entertainment of Japan on September 12, 2012. released their debut single, titled "Touch -A.S.A.P.- / Shanghai Darling".At the time, the group's average age was 16. They went on to make various songs including one for anime, Soul Eater Not!.
Soul Eater Not!
Dancing Dolls performed the opening theme,
monochrome
for the anime series in three different versions: first being the full version, the second being the instrumental theme and the third is an anime/opening version of the song only released in the limited edition of the previously mentioned album   
Ad blocker interference detected!
Wikia is a free-to-use site that makes money from advertising. We have a modified experience for viewers using ad blockers

Wikia is not accessible if you've made further modifications. Remove the custom ad blocker rule(s) and the page will load as expected.