Chuck Huber

Names::English name::Chuck Huber

Name

English

Chuck Huber

Professional Status

Born

May 8th, 1971

Age

46

Full Name

Charles Cody "Chuck" Huber

Gender

Male

Nationality

American

Residence

Fort Worth, Texas[1]

Education

BFA, 1994, Theater Arts, DePaul University[2]

Occupation

Actor, director, writer, producer, educator

Employer
Notable Roles

Franken Stein (Soul Eater)
Android 17 (Dragon Ball Z)
Hiei (Yu Yu Hakusho)
Shou Tucker (Fullmetal Alchemist)

Personal Information

Spouse(s)

Kirsten Fischer (1998-2014)[1]
Jessica Von Braun (engaged)[3][4]

Family

Six children[5]
Charles Cody "Chuck" Huber is a United States actor, ADR director, ADR scriptwriter at Funimation and Christopher Sabat's OkraTron 5000, as well as a director, writer, and producer for stage and screen, and an educator. He provides voices for numerous video games and English versions of Japanese animated series. He is the English voice of Franken Stein in Soul Eater.
Career
Huber has acted on stage, in film, and on television for more than 20 years, including at Chicago's Steppenwolf and Goodman Theaters.[6] He is the the director and writer of Arbor Day - The Musical.[1] His film, Fragility of Seconds, which he produced, co-wrote, and co-starred,[7] won the top prize at the Houston International Film Festival.[6] He is also a Stage West board member.
Huber also has worked in education, as a workshop leader, teacher, and principal for 20 years in various settings, including at Southern Methodist University's Cox School of Business, and in Owerri, Nigeria. He has been a founder, consultant, or board member for five different schools, and is the author of numerous articles for education periodicals, children's books, plays, and screenplays.[8]
For Funimation, he has portrayed numerous characters in Dragon Ball, including Android 17, Emperor Pilaf, and Garlic Jr. Also for Funimation, he has portrayed Hiei in Yu Yu Hakusho, Shou Tucker in Fullmetal Alchemist, and Aleister Crowley in A Certain Magical Index.
He also has acted in video games, including Borderlands 2, Ghostbusters, and The Walking Dead. He also has acted in web series, portraying Iron Man Tony Stark in Death Battle. He also has portrayed Leonard McCoy in Vic Mignogna's web series Star Trek Continues, co-starring Mignogna (the English-language voice of Spirit Albarn) as James T. Kirk and Todd Haberkorn (the English-language voice of Death the Kid) as Mr. Spock.
Also at Funimation, he has been ADR director for Baccano!, Dragon Ball Z, Sasami: Magical Girls Club, and The Tower of Druaga: Sword of Uruk. He is also ADR script writer for Baka and Test, Dragonaut: The Resonance, Oh! Edo Rocket, Princess Jellyfish, and Strike Witches. He and Jamie Marchi (the English-language voice of Liz Thompson) were ADR script co-writers for Hetalia: Axis Powers, Ookami-san and Her Seven Companions, and Spice and Wolf II.
Huber is also co-writer with his previous wife Kirsten Huber of the book Zak and the Three Tree (1996).
Personal Life
Huber was previously married to Kirsten Fischer; the two have six children.[5]
In December 2010, he suffered a heart attack. As a self-employed actor, he had no medical insurance; however, friends and fans made donations to help cover the expenses. He has since made a full recovery.[9]
In 2015, Huber became engaged to illustrator Jessica Von Braun.[3][4]
Soul Eater Voicing
Main article: Franken Stein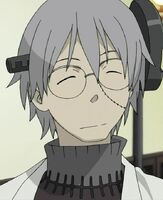 Huber voices Franken Stein, the unlicensed physician and one of the DWMA's strongest meisters in the first Soul Eater anime, as well as partner to both Spirit Albarn and Marie Mjolnir. Huber is currently the only English voice actor for the character; he reprised the role in Soul Eater NOT!
Trivia
Like his character in Soul Eater, Stein, Huber also has worked in education.
Huber has frequently played doctors, physicians, scientists (including mad scientists), and fathers. Stein is an unlicensed physician, a mad scientist, and, in the manga, a father with Marie Mjolnir.

Huber portrays the fathers and scientists Dr. H in Space Dandy, Dr. Yabu in Ouran High School Host Club, and Shou Tucker in Fullmetal Alchemist.
He portrays other physicians, including Leonard McCoy in Star Trek Continues.
He also portrays Petra's father in Attack on Titan, Kyuta's father in The Boy and the Beast, Karin's father in Shangri-La, Toru's father in Shiki, Shin's father in Shin-chan, and Yamato's father in Suzuka.

Huber was a teacher at Southern Methodist University, the alma mater of Todd Haberkorn, the English-language voice of Death the Kid.
Huber's fiance Jessica Von Braun has illustrated some of his characters, including Stein.
References
↑ 1.0 1.1 1.2 Lowry, Mark (2012-06-06). "Fort Worth's Leading Male Actors." Indulge Magazine, Fort Worth Star-Telegram.
↑ "TSNews: Theater School News" (PDF) 7.9. DePaul University. 31 May 2004: 9.
↑ 4.0 4.1 "Jessica von Braun". DeviantArt. * Stitchpunk89 (August 9, 2015): Aren't you the same Jessica Von Braun who's engaged to Chuck Huber? (Sorry to ask, I just have to know!😄 solocosmo (August 28, 20150: Yes :)
↑ 6.0 6.1 "Catholic Actor/Producer Screens First of Several Upcoming Films in Indy." Catholic Online. Catholic PRWire. 2008-12-02.
↑ Leydon, Joe (2008-04-12). "Fragility of Seconds shows the evil men do - Call it a tragic thriller." Houston Chronicle.
↑ "Chuck Huber - 'A unique blend of faith.'" CMG Booking. Retrieved 2012-06-27.
Ad blocker interference detected!
Wikia is a free-to-use site that makes money from advertising. We have a modified experience for viewers using ad blockers

Wikia is not accessible if you've made further modifications. Remove the custom ad blocker rule(s) and the page will load as expected.