Chris Cason

Names::English name::Chris Cason

Name

English

Chris Cason

Professional Status

Gender

Male

Ethnicity

White

Occupation

Voice Actor, Actor, ADR Director, Script Writer

Employer

Funimation
Bang Zoom! Entertainment

Notable Roles

Jack the Ripper (Soul Eater)
Free (Soul Eater Episode 37)
Gluttony (Fullmetal Alchemist)
Mr. Popo (Dragon Ball)
Tien (Dragon Ball)

Personal Information
Chris Cason is a United States voice actor and ADR director for Funimation and Bang Zoom! Entertainment. He has acted in numerous English versions of Japanese anime series. He is the voice of Jack the Ripper in the English dub of Soul Eater and was the voice of Free in Episode 37.
Cason has been the ADR director and script writer for numerous series, many of which he has portrayed numerous characters. He directed Birdy the Mighty: Decode, the Dragon Ball franchise, Kodocha, Mobile Suit Gundam: Iron-Blooded Orphans, Mob Psycho 100, One-Punch Man, School Rumble, The Seven Deadly Sins, and YuYu Hakusho. He was director and script writer for Detective Conan (distributed in the United States as Case Closed) and Yuki Yuna Is a Hero. As well, he was script writer for One Piece and Magi: The Labyrinth of Magic.
Soul Eater VoicingEdit
Main article: Jack the Ripper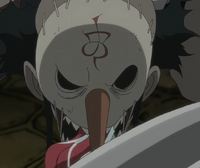 Cason voices the serial killer Jack the Ripper in Episode 1 of the English dub of Soul Eater.
Main article: Free
Cason also voices the antagonist Free in Episode 37 of the English dub of Soul Eater. An immortal werewolf, Free joins Medusa Gorgon's army after she and Eruka Frog freed him from the Grand Witch Maba's prison. Free is credited in this appearance as "Arachnid." In every other appearance of Free in the anime, the character is portrayed by Travis Willingham.
References
Edit
Ad blocker interference detected!
Wikia is a free-to-use site that makes money from advertising. We have a modified experience for viewers using ad blockers

Wikia is not accessible if you've made further modifications. Remove the custom ad blocker rule(s) and the page will load as expected.