Caitlin Glass

Names::English name::Caitlin Glass

Name

English

Caitlin Glass

Professional Status

Born

November 16th, 1981
Washington, DC

Age

35

Full Name

Caitlin Tiffany Glass

Gender

Female

Nationality

American

Residence

Dallas, Texas[1]

Education

BFA, Theater Arts, University of Texas at Arlington[2]

Occupation

Actor, singer, ADR director, scriptwriter

Years Active

2004-present

Employer

Funimation, New Generation Pictures, Bang Zoom! Entertainment

Notable Roles

Kim Diehl (Soul Eater)
Winry Rockbell (Fullmetal Alchemist)
Nefertari Vivi (One Piece)
Haruhi Fujioka (Ouran High School Host Club)

Personal Information

Homeland

Escondido, California[3]

Spouse(s)
Caitlin Glass is a United States voice actress, singer, ADR director, and scriptwriter at Funimation, New Generation Pictures, and Bang Zoom! Entertainment. She has acted in numerous video games and in English versions of Japanese anime series.[2] She is the English voice of Kim Diehl in the anime Soul Eater.
Biography
Glass grew up in the San Diego area and attended middle school and high school in Escondido, California, near San Diego.[3] She graduated Magna Cum Laude from the University of Texas at Arlington with a Bachelor of Fine Arts in Theatre Arts in 2004.[2]
Career
While in college, Glass went on a studio tour of Funimation and was hired the same day.[5] Her first roles were additional voices in Detective Conan (dubbed as Case Closed)[5] before being cast as Hiyono Yuizaki in Spiral.[6] She then went on to voice Triela in Gunslinger Girl.
Among her notable roles are Winry Rockbell in Fullmetal Alchemist, Nefertari Vivi in One Piece, Kaori Misaka in Kanon, Yakumo Tsukamoto in School Rumble, Saya Minatsuki in Black Cat, Accela Warrick in Solty Rei, and Satellizer L. Bridget in Freezing. She also has acted in Negima!, Kodocha, The Galaxy Railways, Sakura Taisen: Ecole de Paris, and Lupin III.
In addition to her voice work at Funimation, she has acted in English-langauge anime dubs produced by New Generation Pictures and Bang Zoom! Entertainment in California. She also has acted in numerous video games, including Borderlands[7], Final Fantasy Crystal Chronicles: The Crystal Bearers, Tales of Zestiria[8], and Xenoblade Chronicles X.[9]
In 2006, Glass began her first major ADR directing project, Suzuka[6]. She is also an ADR director for One Piece. In 2008, she directed the English version of Ouran High School Host Club and played the lead role of Haruhi Fujioka. She also has been scriptwriter for Durarara!!x2, A Lull in the Sea, and Yuki Yuna Is a Hero.
Glass also has sung theme songs for Funimation dubs.[2]
Personal Life
Glass is married to Tony Patterson. They live in Dallas.[4][1] Outside of voice acting, she has worked as an ESL teacher in Spain.[4][2]
Soul Eater Voicing
Main article: Kimial Diehl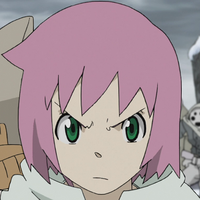 Glass voices Kim Diehl, meister to the demon weapon Jacqueline O'Lantern Dupré and a supporting character in the Soul Eater anime. Glass is currently the only English voice actor for Kim; she reprised her role in Soul Eater NOT!.
Trivia
Glass and Vic Mignogna have reprised their roles as Winry Rockbell and Edward Elric from Fullmetal Alchemist in a live-action short recorded for one of Mignogna's concert DVDs.[10]
References
↑ 1.0 1.1 1.2 "Caitlin Glass". Twitter. Retrieved 23 November 2015.
↑ 2.0 2.1 2.2 2.3 2.4 "It's all about me!" CaitlinGlass.com. Archived from the original on 2011-07-21. Retrieved 2009-12-01.
↑ 3.0 3.1 "kiristokyoto – Profile." Kiristokyoto.livejournal.com. Retrieved 2013-12-11.
↑ 4.0 4.1 4.2 Dallas Spanish House. Retrieved 14 October 2014.
↑ 5.0 5.1 Funimation (January 3, 2013). "Inside the Voice Actors Studio – Caitlin Glass". YouTube.
↑ 6.0 6.1 Regina, Steven. "No Glass Ceiling". The Swerve Magazine. Retrieved 2014-11-08.
↑ 2K Australia, Gearbox Software. Borderlands: The Pre-Sequel! 2K Games. Scene: Closing credits, 3:45 minutes in.
↑ Glass, Caitlin (April 17, 2015). "FINALLY! I can say it! I play Rose in Tales Of Zestiria, coming soon!" Facebook.
↑ Caitlin Glass [caitlinsvoice] (2015-11-13). "Thrilled to finally announce that I play Elma in Xenoblade Chronicles X - Story Trailer (Wii U)" (Tweet). Retrieved 2015-11-13.
↑ Florida Supercon (September 14, 2015). Ouran High School Host Club Panel with Vic Mignogna, Caitlin Glass and J Michael Tatum (around 47:00). YouTube. Retrieved October 12, 2015.
Ad blocker interference detected!
Wikia is a free-to-use site that makes money from advertising. We have a modified experience for viewers using ad blockers

Wikia is not accessible if you've made further modifications. Remove the custom ad blocker rule(s) and the page will load as expected.