Bryce Papenbrook

Names::English name::Bryce Papenbrook

Name

English

Bryce Papenbrook

Professional Status

Born

February 24th, 1986

Age

31

Full Name

Bryce Austin Papenbrook

Gender

Male

Nationality

American

Employer

Animaze, Bang Zoom! Entertainment, Funimation, Studiopolis

Notable Roles

Clay Sizemore (Soul Eater NOT!)
Eren Jaeger (Attack on Titan)
Kirigaya Kazuto (Sword Art Online)
Rin Okumura (Blue Exorcist)

Personal Information

Spouse(s)

Samantha Papenbrook

Family

Debbie Rothstein (mother)
Bob Papenbrook (father)
Bryce Austin Papenbrook is a United States actor who has portrayed characters in numerous Japanese animated English-language dubs for Animaze, Bang Zoom! Entertainment, Funimation, and Studiopolis. He is the English voice of Clay Sizemore in Soul Eater NOT!
Biography
Edit
Papenbrook was born in West Hills, California, on February 24, 1986. He is the son of voice actors Debbie Rothstein and Bob Papenbrook. He graduated from UCLA in 2007 with a degree in Political Science and a minor in Philosophy. His passion for acting started when he was 8, while watching his parents' work.[sourcing needed]
Personal Life
Edit
Papenbrook has trained in the martial arts for more than 16 years and holds a fourth-degree black belt. He began training in American Tang Soo Do under Steve Clark, then trained and receive his fourth-degree black belt under Clark's instructor, Dennis Ichikawa. Papenbrook would go on to become a 3-time kickboxing champion with over 60 fights to his credit.[1] He has been a kickboxing instructor for more than 11 years at the House of Champions Academy of Martial Arts in Van Nuys, California.[1]
Papenbrook's earliest credit in anime English dubbing is as young Vash the Stampede in Trigun, co-starring his mother Debbie Rothstein. He has since gone on to portray for English dubs Kirigaya Kazuto in Sword Art Online and Rin Okumura in Blue Exorcist.
In addition to his voice acting in the Los Angeles area, Papenbrook has acted for Funimation in Flower Mound, Texas, beginning with Ukuleleman in Space Dandy. His first leading role for Funimation was as Eren Jaeger in Attack on Titan, followed by additional roles in One Piece and other series.
He also has acted in numerous video games, portraying Guan Ping in Dynasty Warriors, Henry in Fire Emblem Awakening, Makoto Naegi in Danganronpa, and Cross in Xenoblade Chronicles X.
Papenbrook also dubbed the voice of Cat Noir, alias Adrien Agreste, in Miraculous Ladybug, and acted in United States animated series.
Soul Eater VoicingEdit
Main article: Clay Sizemore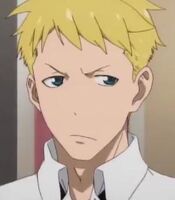 Papenbrook voices Clay Sizemore in Soul Eater NOT!, demon weapon partner to the meister Akane☆Hoshi. Papenbrook is currently the only English voice actor for the character.
Papenbrook's first role for Funimation was as Ukuleleman in Space Dandy, opposite Ian Sinclair as the titular protagonist. Papenbrook and Sinclair would later act opposite each other as partners Clay and Akane☆Hoshi in Soul Eater NOT! Like Soul Eater, Space Dandy is a Square Enix show animated by Studio BONES and airing on Adult Swim's Toonami programming block.
References
Edit
↑ 1.0 1.1 "House of Champions Academy of Martial Arts: Bryce Papenbrook Bio." Accessed on 10 February 2010.