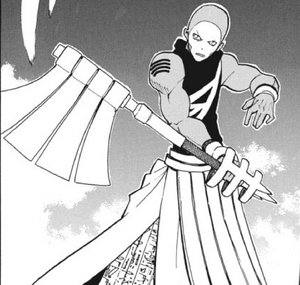 Axe Meister
Debut Data
An Axe Meister is a Meister specialized in the usage of a Demon Weapon in which their form is an axe.[1]
An Axe Meister can be skilled in the usage of an axe itself, as the name implies.[1] However, it is also entirely possible for a user who is a Halberd Meister to be considered an Axe Meister as well if they specialize in the usage of the axe portion.[2]
List of Axe Meisters
Edit
References
Edit
↑ Soul Eater Manga: Chapter 31 (Volume 5 eBooks)
↑ Soul Eater Manga: Chapter 72 - Spirit is a 3 Star weapon and Death is his Meister
Ad blocker interference detected!
Wikia is a free-to-use site that makes money from advertising. We have a modified experience for viewers using ad blockers

Wikia is not accessible if you've made further modifications. Remove the custom ad blocker rule(s) and the page will load as expected.